John Miao
Posted at 5/28/2017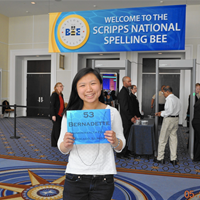 Bernadette Miao
Posted at 5/24/2017
Edith,

I wish you luck in DC next week! Have fun and enjoy Bee Week.

As I mentioned in the meeting, I would review the Round 2 word list and definitions. If you have time, look over the Spell It! words.

For Saturday, I will prepare "random" words. I will look back at previous years to match the level of the onstage words.

~Bernadette ...more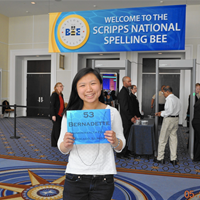 Bernadette Miao
Posted at 4/15/2017
During this meeting, we went over some Spanish words that started with the letters a, b, and c. We also practiced words from the whole list, but we focused on the words * learned (letters a through k).
To help * learn the vocabulary of these words, I suggest that you make flashcards with pictures, create a matching game, or write out the definitions.
I will continue to send vocabulary words, but I would focus on the spelling list. You can use the vocabulary lists if you have time.
Thanks,
Bernadette
...
more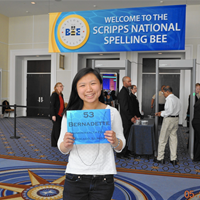 Bernadette Miao
Posted at 3/31/2017
Thanks for another great meeting!
* did a great job learning the vocabulary words I sent. The questions I asked * are similar to the format of the Bee's vocabulary test.
I have attached two word lists for French. In total, there are 105 words. I have included the pronunciations and definitions from Merriam Webster. The sounds are \äⁿ\ and \ōⁿ\.
The word parts that we went over are a great way to study for both spelling and vocabulary. Later on I will send a list of all of the word parts that we have studied.
Lastly, I have attached 27 vocabulary words.
Thanks,
Bernadette
...
more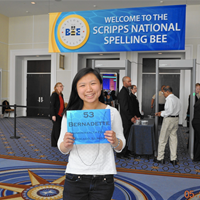 Bernadette Miao
Posted at 3/23/2017
March 18, 2017 (5 year old speller*)

Thank you for the wonderful meeting today! Congratulations to * on spelling successes!

I have written up an evaluation of *s spelling and vocabulary skills. I have attached 20 words that I think are good to learn for both spelling and vocabulary. Please let me know what you think of the words and the number of words. Also, I have attached the word list I used during the meeting.

Spelling:

* is really focused when * spells. * is great at clarifying the word to make sure that * knows what word * is being asked. * should continue * way of spelling and asking questions.

Based on the words I asked *, * can easily spell any words up to the sixth grade level. * can spell most of the seventh and eighth grade level words I asked *.

To best prepare * for the spelling rounds, I would study the lists provided by the Bee. I will send other word lists that I think are good for * to study.

Vocabulary:

The way I asked vocabulary i...more