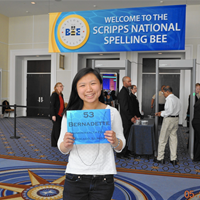 Bernadette Miao
Posted at 5/19/2017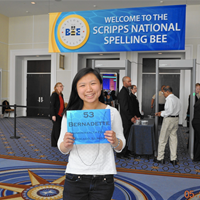 Bernadette Miao
Posted at 4/2/2017
Great job this week!

I have two pronunciation guides. The first one is from Merriam Webster. I find it to be comprehensive and easy to use. The second one is a chart with common diacritical marks.

I have attached 33 vocabulary words. * is doing a great job learning them!
* also did a great job with the word part of andros- we did this meeting. I will send a combined list of words with word parts later.
* is also very good at learning the tips and tricks for spelling Spanish words. I have attached Spanish words that begin with the letter "A."
I have another French list. I put the list for \s\.
See you next week!
Bernadette
...
more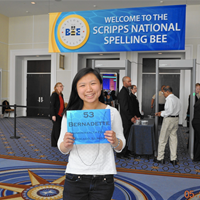 Bernadette Miao
Posted at 3/31/2017
Thanks for another great meeting!
* did a great job learning the vocabulary words I sent. The questions I asked * are similar to the format of the Bee's vocabulary test.
I have attached two word lists for French. In total, there are 105 words. I have included the pronunciations and definitions from Merriam Webster. The sounds are \äⁿ\ and \ōⁿ\.
The word parts that we went over are a great way to study for both spelling and vocabulary. Later on I will send a list of all of the word parts that we have studied.
Lastly, I have attached 27 vocabulary words.
Thanks,
Bernadette
...
more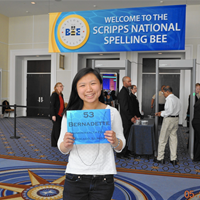 Bernadette Miao
Posted at 3/23/2017
March 18, 2017 (5 year old speller*)

Thank you for the wonderful meeting today! Congratulations to * on spelling successes!

I have written up an evaluation of *s spelling and vocabulary skills. I have attached 20 words that I think are good to learn for both spelling and vocabulary. Please let me know what you think of the words and the number of words. Also, I have attached the word list I used during the meeting.

Spelling:

* is really focused when * spells. * is great at clarifying the word to make sure that * knows what word * is being asked. * should continue * way of spelling and asking questions.

Based on the words I asked *, * can easily spell any words up to the sixth grade level. * can spell most of the seventh and eighth grade level words I asked *.

To best prepare * for the spelling rounds, I would study the lists provided by the Bee. I will send other word lists that I think are good for * to study.

Vocabulary:

The way I asked vocabulary i...more