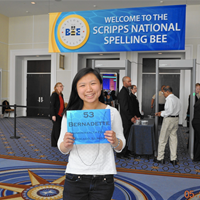 Bernadette Miao
Posted at 4/15/2017
During this meeting, we went over some Spanish words that started with the letters a, b, and c. We also practiced words from the whole list, but we focused on the words * learned (letters a through k).
To help * learn the vocabulary of these words, I suggest that you make flashcards with pictures, create a matching game, or write out the definitions.
I will continue to send vocabulary words, but I would focus on the spelling list. You can use the vocabulary lists if you have time.
Thanks,
Bernadette
...
more