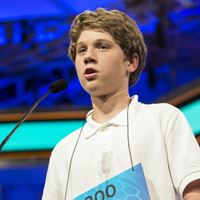 Cole Shafer-Ray
Spelling Coach
2015 National Spelling Bee Runner-Up.
Call Rates
| Duration | Price |
| --- | --- |
| 30 minutes | $60.00 |
| 60 minutes | $100.00 |
Biography
Hey! I am Cole Shafer-Ray, a junior in high school from Norman, Oklahoma.

I am very passionate about spelling. I was a three-time participant in the Scripps National Spelling Bee, written test perfect-score recipient, and runner-up in 2015.

Some traits that could describe me: determined, resilient, enthusiastic, perfectionist, competitive, hard-working, driven, thorough, and focused on excellence. I'm very committed to being the best in whatever I do.

I've been involved with spelling bees for the past 9 years, so I am about as knowledgeable as one could be about anything and everything spelling-related. This not only includes sheer spelling and vocabulary knowledge, such as extensive root knowledge, language rules, and a profound base knowledge of words, but I've also been around long enough to know how it all works, down to the finest detail. I've done enough analysis of past competitions to know exactly which lists to study (or disregard), as well as the Do's and Don'ts of spelling study (i.e. how much of my time should I spend devoted to vocabulary?) I know what it takes to succeed at the very highest level, and even win.

I play soccer, run cross country, and am involved in my school's math, Spanish, and academic clubs and the National Honor Society. I am a friendly and enthusiastic person who's pretty down-to-earth and who loves working with other people.

I would be extremely committed in taking you to the next level. If you are a speller looking to advance past your regional bee and into the later stages of the National Spelling Bee, consider having me as your coach!

3/22/2018 3:02:01 PM,
Cole Shafer-Ray
replied:
Scripps has barred the CWL from being published online, so it could be a challenge to find. Try asking around to try and find someone who has a copy you could borrow.

8/23/2017 2:25:28 PM,
Cole Shafer-Ray
replied:
Hello!
Firstly, Tanushri should have the Scripps-provided lists (like Spell-It and the school study list) down cold. This will be the only way to make it through the local bees. To prepare for the regional competition, it will be a very good idea to have a good grasp on the Consolidated Word List. Try perusing this list for the harder words, some of them are far too easy to be used anymore. This list will account for a large percentage of the 'additional words'. For language rules and patterns, there is no better resource than Words of Wisdom. Resources like Words of Wisdom, Words from The Champions, and The Blitz Lists are strong resources for preparation for the national competition. You can also take a look at my website at thespellingbeechamp.wordpress.com for more information on studying for local and national competitions.
Good luck!!